SEEDS SHALL SET US FREE II
---
2017-2023
Cyanotypes prints, inkjet prints, archival documents,
photographic reproductions of drawings
Cosmopolis #2: rethinking the human', Center Pompidu, 2019
Munem Wasif seeks to reimagine an indigenous "ecosophical" mode of agriculture, where grain is a companion species to humanity, having names, deities and spirits, around which the village organizes itself. He investigates the cultural history of grain, connected to memories of the 1944 Bengal famine, caused by hoarding for British troops.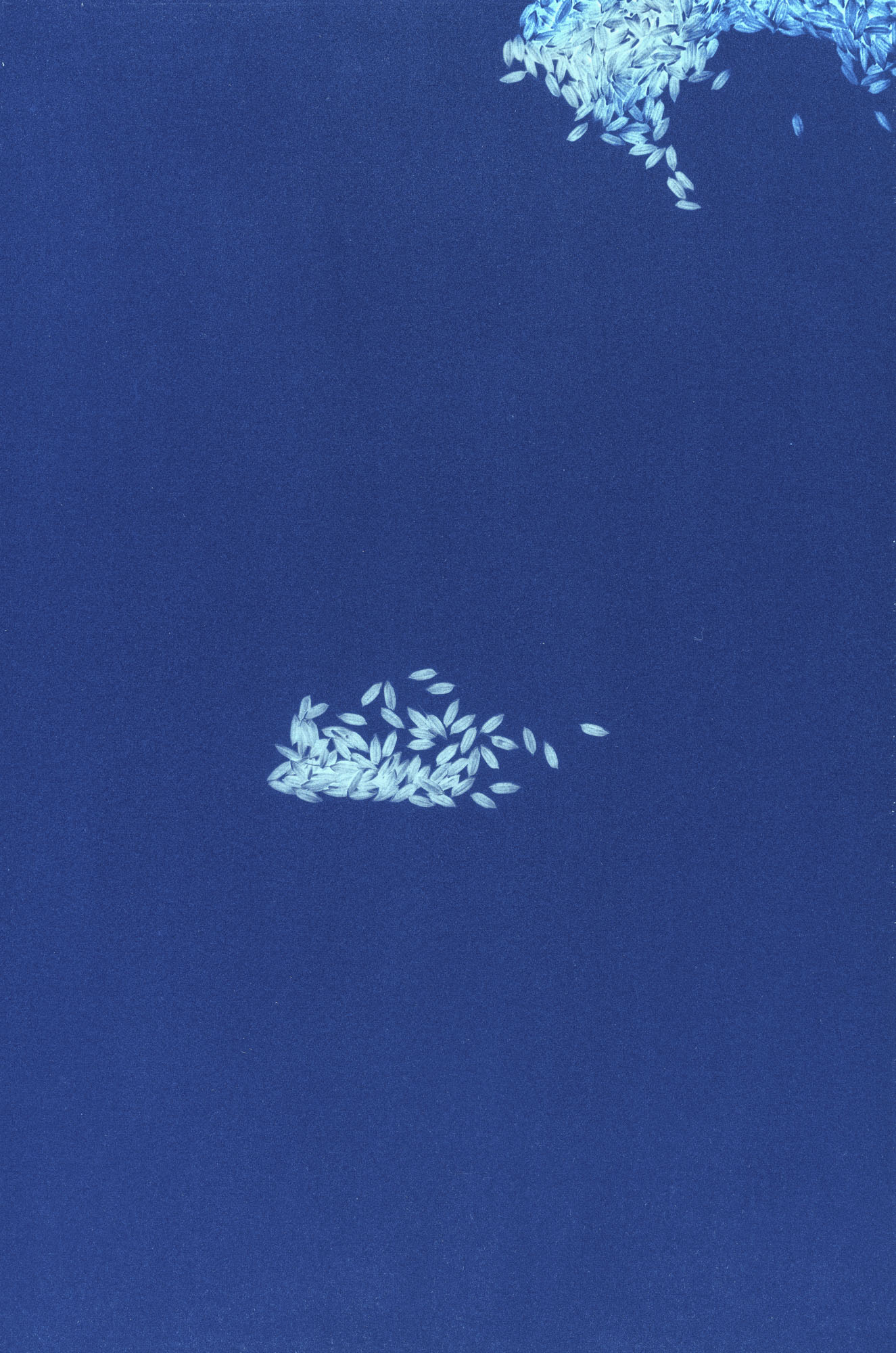 Seeds Shall Set Us Free is a series of cyanotype prints of rice seeds, referencing at once scientific representation and alpona, the Bengali practice of creating ritual floor paintings using rice paste. Wasif juxtaposes his cyanotypes of rice grains and plants with archive documents and photographs from one of the largest community grain banks (Nayakrishi Andolon) in the country.
The artist excavates layers of ecological colonialism from the destruction of agricultural ecologies with the introduction of plantation farming and cash crops.


This project would have not been possible without the help of Mustain
Zahir and the relentless efforts of the farmers of Nayakrishi Andolan all over Bangladesh to protect and preserve biodiversity and fight for reclaiming sovereign control over their land and livelihoods. Special thanks to Farhad Mazhar whose vision has led the way and made it possible. Thanks to Rabiul Islam Chunnu, Razab Ali, Borkot Hossain who opened the seed repository and introduced me to a variety of seeds.

Thanks to Debasish Shom who made the darkroom a living space again
and helped me print all cyanotypes. Thanks to Shimul Saha, Dilshad Munmun,
Tanvir Murad Topu, Iftekhar Hassan, Toukir Ahmed Tanvee, Enamul Hasan, Sadia Marium Rupa, Asmita Parelkar, Sheikh Motiar Rahman, Nasirul Islam, Md. Shakil Khan, Ruhul Amin and Pathshala South Asian Media Institute.