উলটপালট
I didnt look at the photographs and thought about this sequence while making it. It's only after few months I sync them together as upside down, may be how my life turned into.
Berlin, 2020
From 15-20 July, I took over the Instagram page of goethe_bangladesh to explore Berlin and vicinity during the Covid pandemic 2020-21. Follow my Instagram page @munemwasif.
---
Growing Like A Tree
Curated by Sohrab Hura
12 March- 1 August, 2021, Ishara Art Foundation
Ishara Art Foundation presents Growing Like A Tree curated by Sohrab Hura, an exhibition that looks at regional histories of image-making through a visual and sonic excavation of place, memory and culture. Referencing the interconnected spheres of contemporary artistic practice, this show considers photography as a locus in an expanded field of art that includes videos, books, and sound installations.

The ensemble of artists and collectives in the exhibition includes Aishwarya Arumbakkam, Anjali House, Bunu Dhungana, Farah Mulla, Jaisingh Nageswaran, Katrin Koenning, Munem Wasif, Nida Mehboob, Nepal Picture Library, Reetu Sattar, Sarker Protick, Sathish Kumar, Sean Lee, Yu Yu Myint Than, and a citation of Dayanita Singh along with site-specific interventions by Sohrab Hura.
---






Installation view of 'Kheyal' (2015-2018)
Single channel video, 23:34 mins, 2015-2018

Image courtesy of the artists and Ishara Art Foundation. Photography by Augustine Peredes/Seeing Things.

CHOBI MELA - শূন্য
International Festival of Photography
12-21 Feb, 2021, Dhaka
This year, for the special edition of Chobi Mela titled 'Shunno', I have curated a series of podcasts. Travel restrictions and multiple lockdowns forced us to connect with each other virtually. Sitting in our own spaces in Berlin, Dhaka, Delhi, Kathmandu, New York, Edinburg, Dakar, Dubai but engaging with each other, in conversations. Fourteen speakers and seven podcasts.

We have Natasha Ginwala & Akinbode Akinbiyi talking about the substance of race, weight of the camera and the role of contact sheets. Nayantara Gurung Kakshapati & Yasmine Eid Sabbagh juxtapose their experiences on common spheres of archival images, research and conversations. Shaheen Dill-Riaz & Nurul Alam Atique spoke about the characters in their lives as well as films, their irregularities, chaos and pause. Alongside, we have Sabih Ahmed & Sohrab Hura, Catherine Masud & Lotte Hoek, Tanvi Mishra & Sanjay Kak, and Naeem Mohaiemen & Amr Alfiky in conversations.



Thanks to Jatin Gulati for assisting and Rifat Nobel for editing sound.
---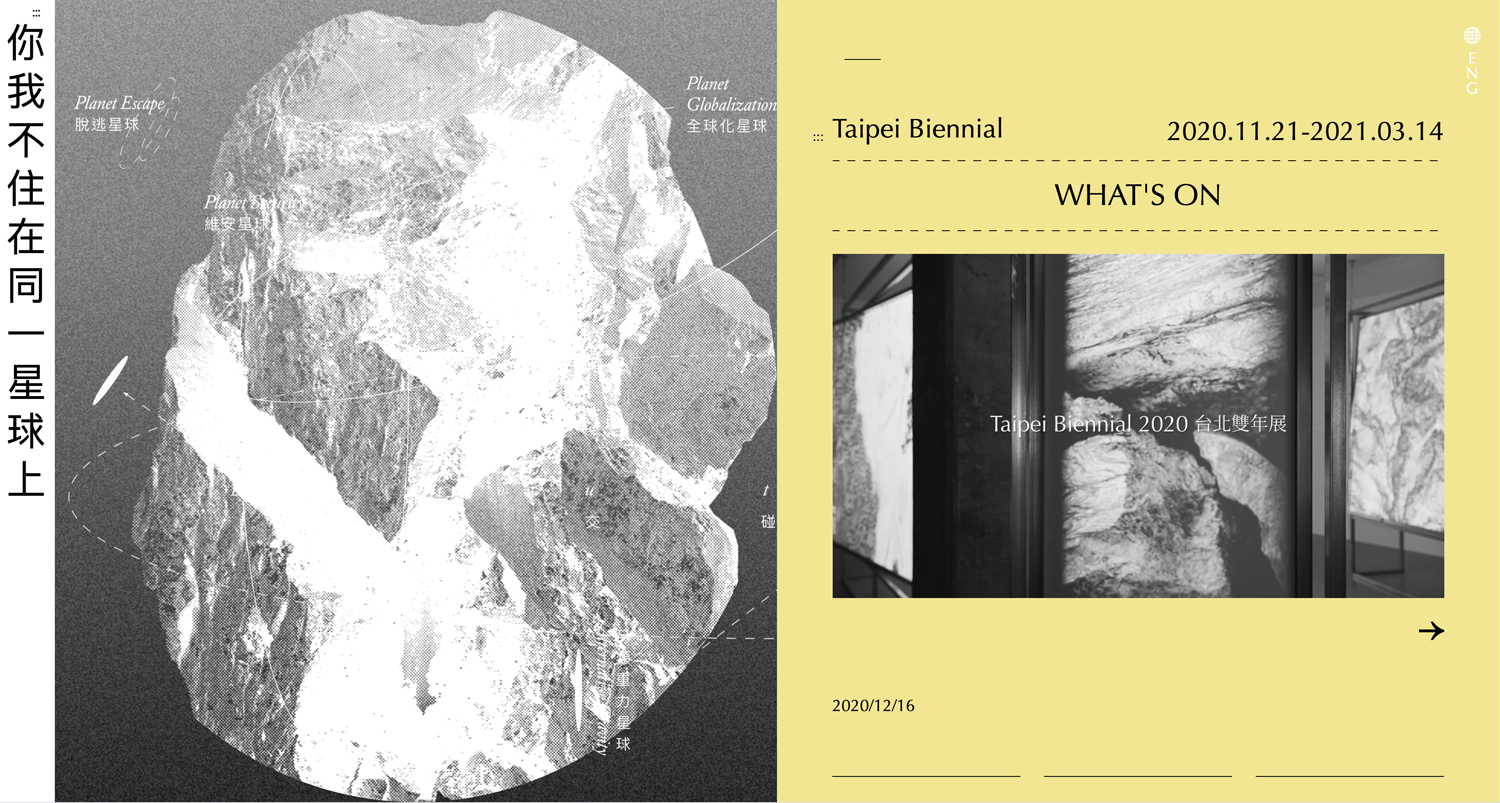 Taipei Biennial 2020
You and I Don't Live on the Same Planet
November 21, 2020–March 14, 2021
Curated by Bruno Latour and Martin Guinard

Entitled You and I Don't Live on the Same Planet, the biennial aims to question our current ongoing geopolitical tensions and worsening ecological crisis by examining our differences and influences on a planetary perspective. As Latour and Guinard commented: "There is increasing disagreement on how to keep the world inhabitable, not only because political opinions diverge, but more crucially because we don't seem to agree on what the earth is made of. Some today may even think the world is flat! It is as if there were several versions of Earth, with properties and capacities that are so different that they are like distinctive planets, which results in deviation in the way one feels, behaves, and predicts their future."

The biennial proposes a fictional "planetarium" within the museum, wherein the invited artists, activists and scientists will explore the tensions between the gravitational pull of different "planets." Each planet embodies a divergent version of the world, not only in terms of representation, but also in terms of materiality. The planetarium includes: a planet for those who relentlessly modernize despite planetary boundaries (planet Globalization); a planet for those who feel betrayed by globalization and want to consequently build walls for seclusion (planet Security); a planet for the few privileged who want to settle on Mars to avoid the doomsday (planet Escape); a planet for those who cannot afford such a costly trip but instead seek refuge in an environment imbued with metaphysical beliefs (planet with Alternative Gravity); and finally one for those who are concerned about the climate situation and trying to reconcile the balance between maintaining prosperity while keeping within the planetary boundaries (planet Terrestrial).


---
Seeds Shall Set Us Free II, 2019, cyanotype prints, inkjet prints, photographic reproductions of drawings, dimensions variable. Courtesy of the Artist and Taipei Fine Arts Museum.
Borges and Blindness
Archival Pigmnet Print
40-32 inch, 2020
The blind live in a world that is inconvenient, an undefined world from which certain colors emerge: for me, yellow, blue (except that the blue may be green), and green (except that the green may be blue). White has disappeared, or is confused with grey. As for red, it has vanished completely. But I hope some day — -I am following a treatment — -to improve and to be able to see that great color, that color which shines in poetry, and which has so many beautiful names in many languages.


Think of scharlach in German, scarlet in English, escarlata in Spanish, ecarlate in French. Words that are worthy of that great color. In contrast, amarillo, yellow, sounds weak in Spanish; in English it seems more like yellow. I think that in Old Spanish it was amariello.

— Jorge Luis Borges
Not an Imitation
Curated by Pallavi Paul and Rohini Devasher
Project 88, March 2021
Globally, the past year has been scarred by a sense of displacement and loss. While for many this loss may have been personal, for others it has also taken on new connotations. Primary amongst these is the loss of the 'real'. We are surrounded by nostalgic recountings of our immediate past. Social contact, physical proximity, 'normal life' – in other words the 'real'; now seems moored to a time gone by. These exchanges between 'nostalgia' and the 'real', their relationship to history and by extension our contemporary, need urgent attention.
In the 1946 piece 'A New Refutation of Time' , Borges perhaps unknowingly foretells his own impending blindness. He writes, "I have accumulated quotations from the apologists of idealism to help my reader penetrate this unstable world of the mind. A world of evanescent impressions; a world without matter or spirit, neither objective nor subjective; a world without the ideal architecture of space; a world made of time, of the absolute uniform time of the Principia; an inexhaustible labyrinth, a chaos, a dream." This world where architecture, space, matter and spirit meld, Borges evokes as a portrait of blindness. A blindness shaped by time but never ostensibly touched by it.

Munem Wasif's 'Borges and blindness' speaks to this "inexhaustible labyrinth". We see a luminous sphere refer to blindness. This discrepancy is locative, we are pushed towards simultaneity. Blindness and brightness, darkness and colour attend to one another, not as opposite sides of a rope, but as two kinetic extensions of a torrent...
To view the show - https://tinyurl.com/pmva66zd
---
Through photography, sculpture, painting, performance and film, Homelands told stories of migration and resettlement in South Asia and beyond, as well as violent division and unexpected connections. The exhibition engaged with displacement and the transitory notion of home in a region marked by the repercussions of the Partition of India and Pakistan in 1947, and the independence of Bangladesh in 1971, as well as by contemporary migration. The artists explored intimate and political histories, often contesting borders, questioning common pasts and imagining new futures.


Discussion: Crossing Boundaries:
Art-making between Bangladesh, India and Pakistan
Hear Homelands artists Sohrab Hura, Desmond Lazaro, Seher Shah and Munem Wasif in conversation with exhibition curator, Devika Singh, Curator, International Art, Tate Modern.
Lahore Biennial 2020
Between the sun and the moon
Curated by Hoor Al-Qasimi
January 26–February 29, 2020
Questions of identity, recognition and difference are among the most urgent and globally resonant of our time. In the Global South, colonial legacies and the rise of modern identities have hardened differences across ethnic, religious, linguistic, and national affiliations. Dissonances between and among humans are compounded more recently by the environmental emergency that now confronts us, a crisis borne of humanity's alienation from nature. Just as our ties from one another have come to be defined by separation and polarisation, our bonds with non-human entities and life forms are increasingly characterised by distance and estrangement. These barriers have congealed to the degree that we find ourselves unable to forge relations of coexistence with those who have been our fellow travellers historically.

The ancient city of Lahore was deeply connected through trade, movement of people and knowledge with the wider South Asian, Central Asian, and West Asian regions. Evidence of this is abundantly found everywhere in the architecture, art, cosmology, cuisine, and literary texts across Lahore, as well as in the diversity of peoples inhabiting the city – peoples whose kinship had evolved in balance with local and regional ecosystems. Many of these connections, and the relations of care that accompanied them, have become difficult to imagine in contemporary terms, as exchanges that could forge new cultural forms and expansive understandings of ourselves today.



The second Lahore Biennale (LB02) builds on the success of the inaugural Lahore Biennale of 2018 (LB01), fostering new linkages with the wider region. LB01 focused on the local, national and the South Asian context. LB02 consolidates these ties and foregrounds new relations with Central Asian, West Asian, and African contexts. It does so by bringing significant artistic forms and projects to Lahore,
and commissioning new works by artists who have not previously engaged with the city.


Installation view of "Machine Matter"
at Summer Palace, Lahore Fort


---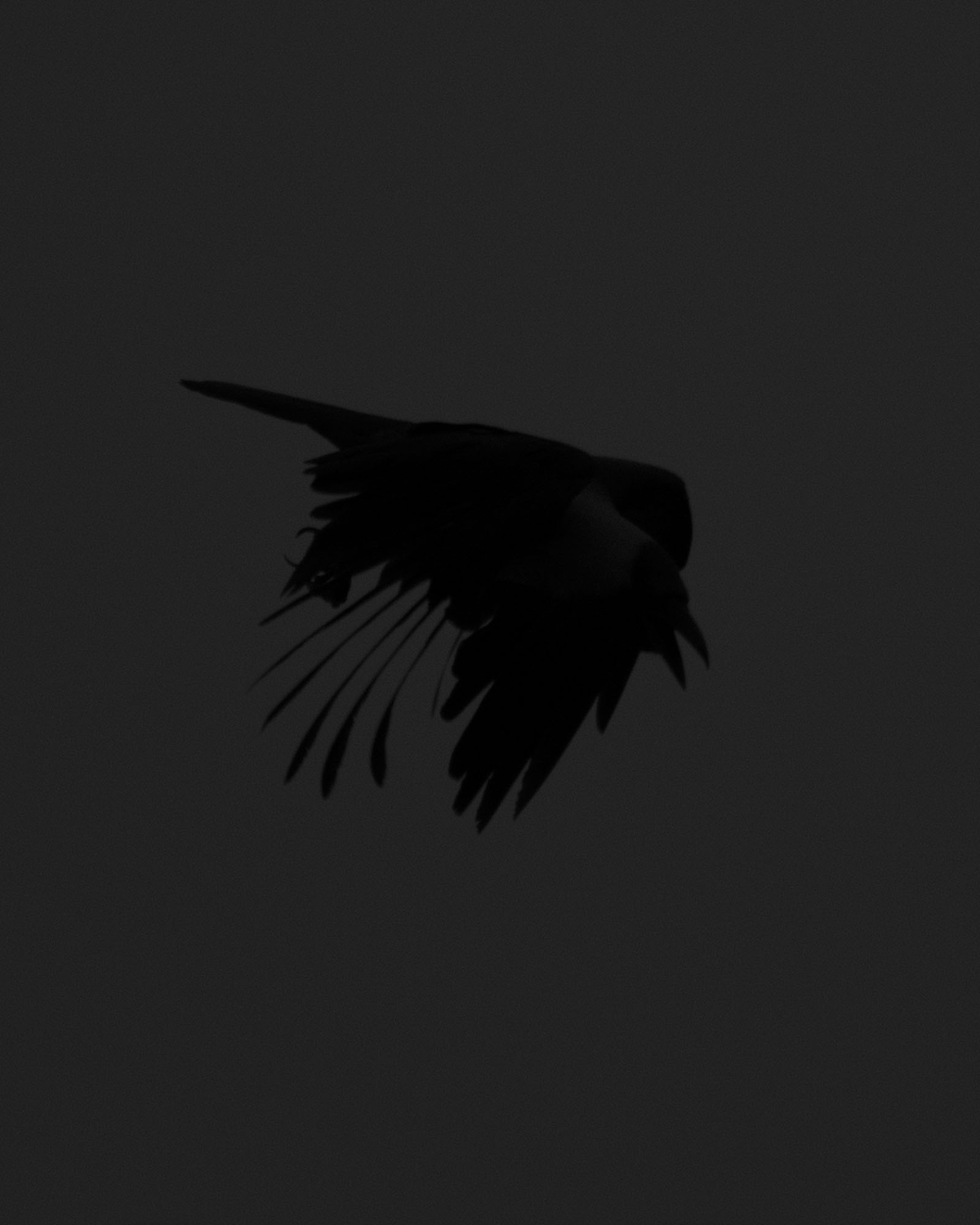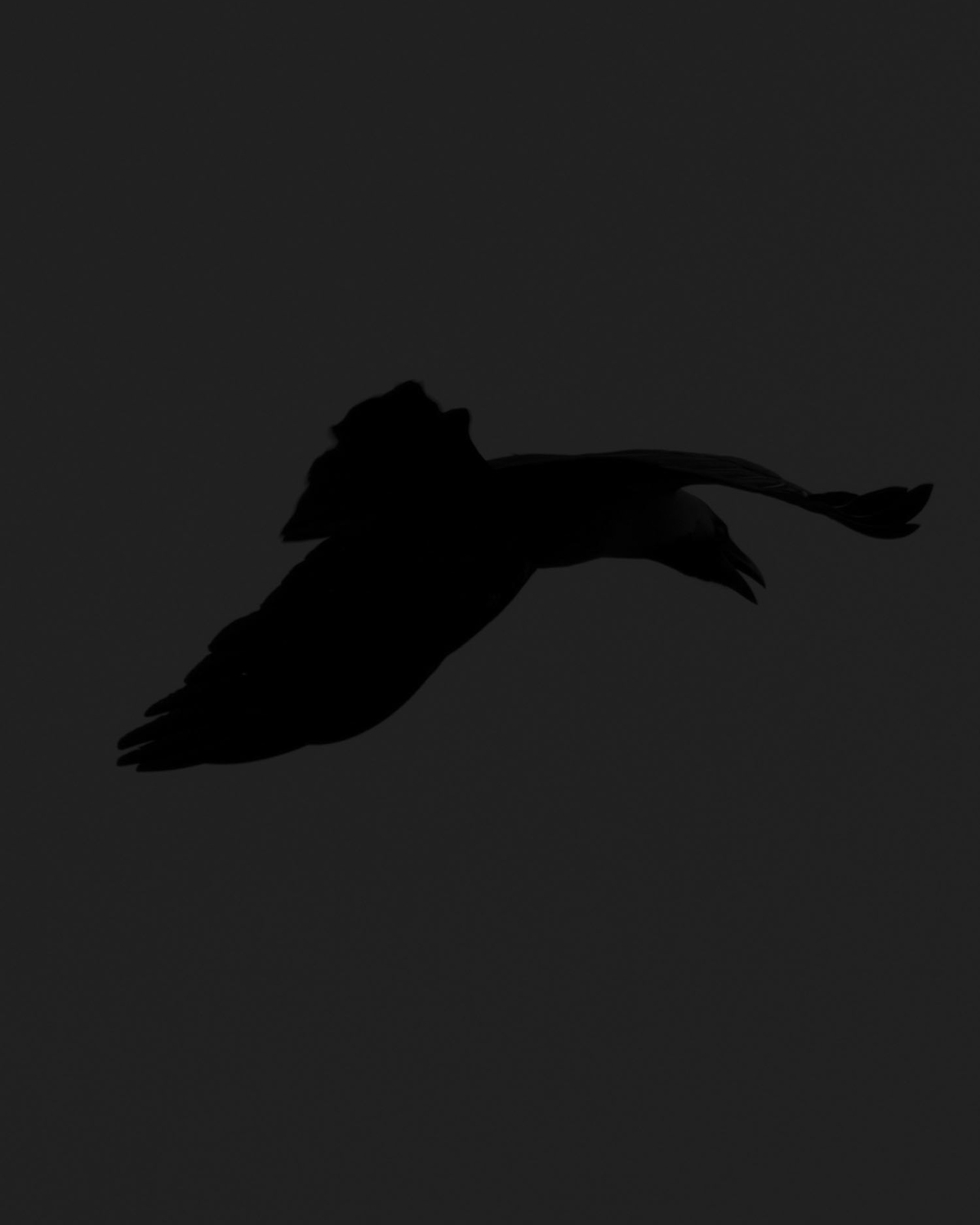 ৭০ / 70 days
Dhaka, May 28, 2020

A flock of 200 Shamuk-khol birds had perched in three Shimul trees of Bajitpur village of Natore and most fell to the ground on Thursday morning as they could not keep up with the hit of Cyclone Amphan. The villagers captured, slaughtered, cooked and ate all.

According to Abdul Quader, for three months, the birds would feed on the surrounding swamps and then would come back to the trees at night. He became vigilant as hungry eyes were always at lurk. Quader ran from house to house but it was too late by then.

In 1963, Alfred Hitchcock made The Birds. A series of sudden and unexplained violent bird attacks on the people of Bodega Bay, California. One day the birds might come after us.





Diaries from Home


49 Days,


April- June, 2020


In the first phase of lockdown in Dhaka, I kept a diary and posted various things on Instagram and later these 49 posts complied on the website of VU agency.

To see all 49 posts, please click here https://tinyurl.com/2a9be6ap

---
The 9th Asia Pacific Triennial of Contemporary Art (APT9)
Munem Wasif is widely recognised for his documentary photography, in which he takes a humanistic approach to social and political issues in Bangladesh. In his recent work, Wasif has experimented with video, sound and different photographic devices while retaining aspects of the documentary style and archival interest for which he is acclaimed. Expressionistic in style, his works are remarkable for their clarity and depth of light and shadow, while his emphasis on long-term engagement with his subject matter allows for a deeper understanding of the sites and cultures of Bangladesh. In previous series, Wasif has concentrated on subjects such as the history of Dhaka; the lives of labourers and ordinary people, from stone cutters to textile workers; the borderland between India and Bangladesh; or the complexities of identity and religion within his own community.


---
Joop Swart Masterclass
The World Press Photo Foundation is pleased to announce the participants selected for the 26th edition of the Joop Swart Masterclass. The 2019 Joop Swart Masterclass will be held 17-21 September 2019 at the World Press Photo Foundation in Amsterdam.

The Joop Swart Masterclass is the World Press Photo Foundation's best known educational program. It encourages new and diverse approaches to documentary, visual journalism, and storytelling. Run as an immersive and interactive educational experience, the Joop Swart Masterclass enables the exchange of knowledge and experience in a meeting place for practitioners who often work alone.



---
In 2007 I was selected as a partiicpant in Joop Swart Masterclass and in 2019 i was invited as Master to teach in the programme.
2019 Masters
Aida Muluneh- Founder and director of the Addis Foto Fest
Diana Markosian- Artist, USA
John Fleetwood- Director of Photo, South Africa
Monica Allende- Curator, creative producer and educator, UK
Munem Wasif- Artist, curator and educator, Bangladesh
Participants
Chosen from the 245 candidates nominated in March 2019, the 12 participants - seven women and five men from 12 different countries - are:
Nydia Blas
, United States,
Fabiola Ferrero
, Venezuela,
Christopher Gregory-Rivera
, Puerto Rico,
Sofía López Mañán
, Argentina,
Thandiwe Msebenzi
, South Africa,
Yoppy Pieter
, Indonesia,
Hannah Reyes Morales
, Philippines,
Zied Ben Romdhane
, Tunisia,
Soumya Sankar Bose
, India,
Shahria Sharmin, Bangladesh,
Abdo Shanan
, Algeria,
Nikita Teryoshin
, Russia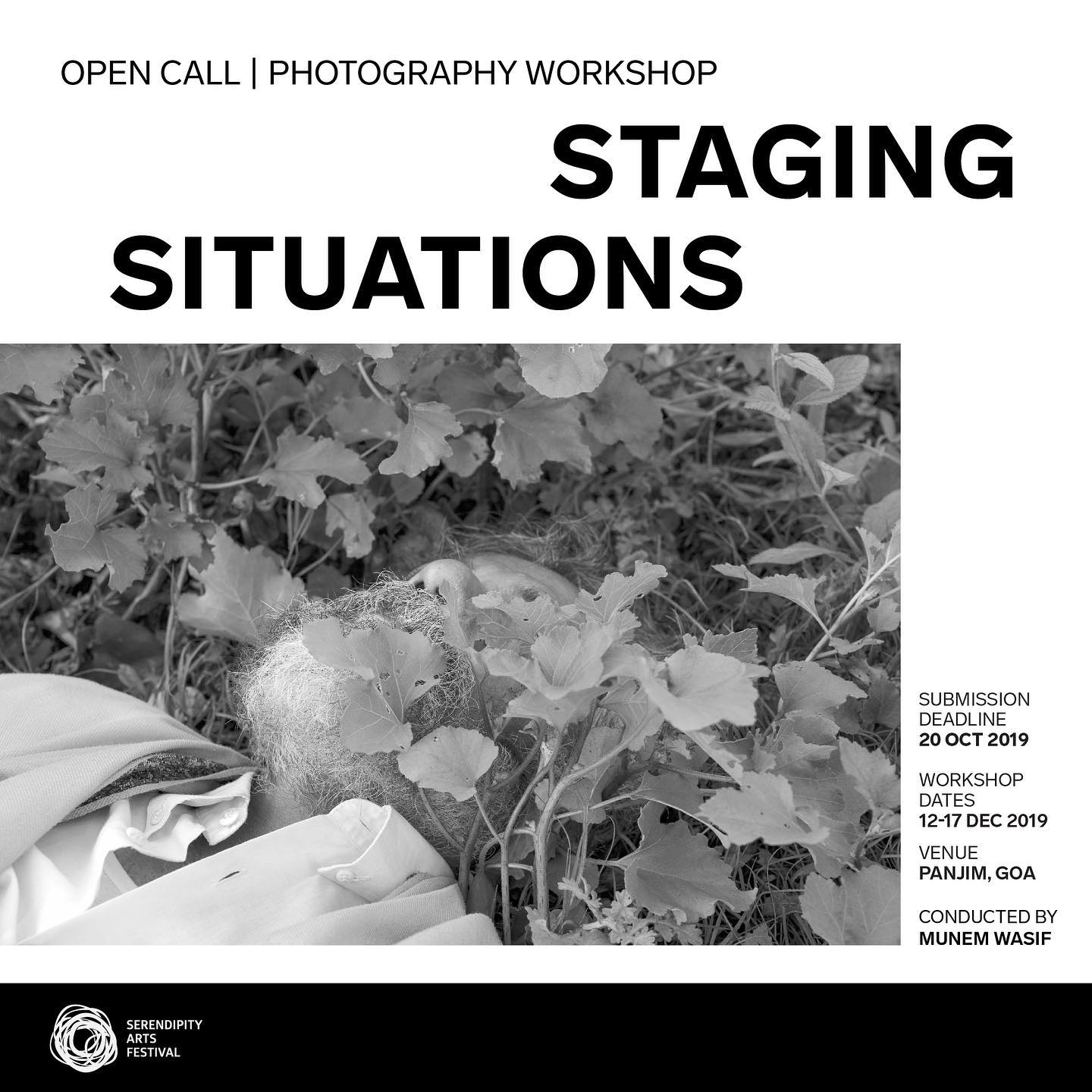 The workshop will explore different possibilities
of staged photography. Beginning with a quote by
Jeff Wall, 'I begin by not photographing', the
workshop will focus on various processes and practices of 'Staging Situations' divided into three chapters:
As constructed narrative; performing for the camera;
and stranger than fiction. The participants will
travel through various historical and contemporary interventions by artists—from tableau vivant to
self-portraits.

During the workshop, participants will be asked to produce one single image in Goa. It can be based on a poem, news clipping, a short story or a historical anecdote. The workshop will look at also parallel practices in experimental cinema, performance and contemporary art and discuss various methodologies, strategies and tools to understand the journey from
idea to constructed imagery.


SHORTLISTED PARTICIPANTS

Abdul Halik Azeez
Aditya Kapoor
Animikh Chakraborty
Asmita Parelkar
Gayatri Ganju
Yashna Kaul
Vinod Babu
Chandni Gajria

The workshop was part Ravi Agarwal curatorial framework
and exhibition Imagined Documents.


---